Best Placement Main Module
Important !!
Place the Main Module as central as possibel in the middle of a radius from where the sensors are placed.
Place the module as high as possible, it is OK to hang it upside down
Be sure there is power to the module around the clock
You must make sure that the module's antennas are placed so that there is free passage for signals below any ventilation pipes and hood´s
It is OK to place the module on the top of a refrigiator, that will be a good ground for the module.
Do not place the module close together with any electrical wires
Do not place the module on a heavy concrete wall
Also take into consideration
The main module reaches sensor signals within a 40m range from the center of a radius, if sensorsignals dos not reach the main module, you can use a SensorRepeater
Sample 1
A Shoop with storage room and closed coolingrooms The triangel mark in the coolingrooms is our suggestion for the placement of sensors. The main module is placed in the storage room, and the Repeater module is placed in the Shoop room.
We have placed the moduels in the ceiling and in a lokation of the room so that the 2 modules has a good chance to communicate, look at the orange circle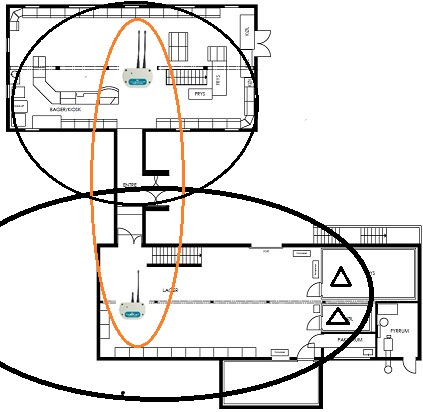 Sample 2
A shoop with a backroom. We have placed the mainmodule in the ceiling in the shop and with the antennas upsidedown. Sensors are placed in the units in the shop
We have placed the main module right in a line with the door opening into the backroom, becaurse we have sensors placed in the coolingrooms in the back.
There is not more than 40m from the coolingroom to the mainmodule, so that should bee OK, if there is trouble with reading the signals from the coolingroom then you can setup a sensor with long antenna in the cooling room and pull out the antenna from the room.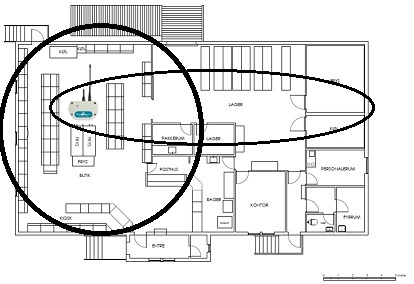 shop measuremet 15mX25m = to 375 Squaremeter